I was fortunate in that I grew up in Africa. When I moved down to South Africa in order to attend the University of Stellenbosch, a friend of mine from Zimbabwe had a Series 2A long wheelbase diesel Land Rover, which was extensively used on weekend fishing trips.
(L to R) James, Peter, me, JC

Another friend then acquired a Series 3, also a long wheelbase, but 2.25 petrol. I was allowed to drive this on several occasions and really enjoyed the experience.

On one occasion we were doing some research work for the University during the holidays (primarily in order to earn some beer money) - and on the way out of the Jonkershoek Nature Reserve (a one-way road system) we came around a corner to discover another vehicle heading rapidly towards us. JC (who was driving) took avoiding action by swinging the steering wheel left, and we left the road.

Well that wasn't so bad - after all, it was a Land Rover - but within a very short distance we met a tree-stump that had not heard of the legendary ruggedness of these vehicles. We stopped rather suddenly. Now I don't quite recall the reason (maybe I was moving digs at the time) but in the back of the Land Rover amongst other stuff we had my small portable television, a storm lantern, and a large bag of potatoes.

It's quite true that during an accident, time seems to slow down. I remember becoming airborne, and stopping when my knee hit the (steel) dashboard. (My knee was absolutely fine but it did bend a "V" shape into the metal). At the same time I recall both of us being pelted with potatoes from behind. The plastic casing of my television was fine, but the insides had somehow shifted by about 10 degrees, so in future in order to watch a level picture I had to prop one end of the television on a book. Unfortunately the storm lantern was beyond repair.

The damage to the Land Rover consisted of a bent front bumper and slightly crumpled wing - both of which were replaced within a few weeks following a visit to a scrapyard.
I was quite disappointed that my personal "V" shaped dent in the dashboard was also repaired!

So I suppose it was inevitable that when I moved to the UK, my vehicle of choice would be a Land Rover.

It was a 1979 Series 3 long wheelbase model, 2.25 petrol, which served me faithfully for several years, travelling all over the country. I hand-made some bench seats for the back; these were designed to fit together over the wheel arches in order to form a sleeping platform.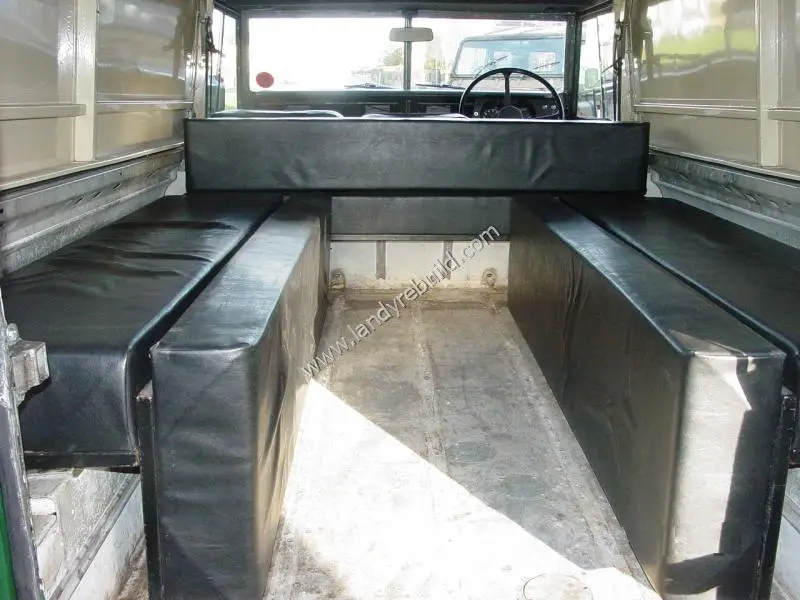 However I'd always hankered for a V8 Land Rover, and when I saw a 1983 110 for sale on Ebay, I bid on it and won!

And that's the main reason for this site - as a sort of tribute to one of the most legendary vehicles still around today.

I originally wanted to register the domain name "Land-Rover-Rebuild.com". However when I contacted Land Rover UK to ask if they would have a problem with this, they said they did. "We own the domain name 'Land Rover'", they said. "So you can't use those words."
"But it's a site detailing the rebuild of my Land Rover", I argued. "What do I call it then? Baked-Beans.com? Doesn't make much sense to me."
Still, anything for a quiet life. Hence the name "Landyrebuild.com".

My other websites can be found here: